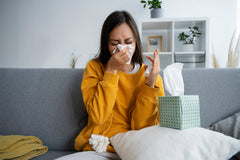 Are you tired of constantly battling allergic rhinitis?

Do you wish you could breathe easy and enjoy life without worrying about sneezing, coughing, and other allergy symptoms?

The good news is, you don't have to suffer any longer. The secret is out, and it's all thanks to the revolutionary Sterra Moon Air Purifier!
This powerful and aesthetic air purifier is designed to target the root cause of your allergy symptoms – the airborne allergens that are making your life miserable.

With its advanced True HEPA-13 filter technology, Sterra Moon air purifier captures even the smallest particles that can cause sneezing, wheezing, and watery eyes, providing you with clean, fresh air that's free from irritants.


Benefits of Sterra Moon True HEPA-13 Air Purifier
Purifies air fast ↓
Thoroughly cleans air in a 15-m2 room in less than 8 minutes. This makes your rooms more cozy, healthy and fresh-smelling all day and night.
Eliminates allergy symptoms ↓
This air purifier will quickly improve the quality of the air around you and reduce your typical allergy symptoms with just a few minutes of use. This includes sneezing, itching, or coughing. With this device, you can finally breathe easy and enjoy life without worrying about allergic reactions.
Enhances air quality ↓
Sterra Moon air purifiers are expertly designed to eliminate 99.97% of airborne pollutants, including allergens, smoke, odors, and other irritants. Feel at ease as you enjoy the peace of mind that comes with improved air quality. Say goodbye to stale, musty air and hello to a more inviting, fresh and healthy living space.
Helps achieve healthier life ↓
Having access to cleaner, fresher air leads to a variety of positive benefits, such as improved health and well-being. With a cleaner breathing environment with the help of Sterra Moon air purifier, you can achieve a more energized and productive life. Truly, a healthier lifestyle is achievable and Sterra Moon air purifier helps you get there.
Operates silently ↓
Goes as low as 20 decibels (soft whisper-quiet) on its lowest fan setting so you won't notice it running and purifying your air even at night. Perfect for homes with light sleepers, infants, and those who have a long day and want to have a restful night while breathing in safe, clean air.
Life Without Sterra vs. Life With Sterra
Say goodbye to the suffering and hello to a healthier, happier life!

With Sterra Moon True HEPA-13 Air Purifier, you can finally breathe easy and enjoy the freedom and comfort you deserve.

Order today and experience the life-changing benefits for yourself!